1
Choose a Hull
Choose a base hull from our
fleet
. A hull is required to continue with submitting a quote to our sales team.
2
Select Additional Items
Once you have selected a hull and added it to the Quote Cart you can select additional options and accessories to fully customize your build.
3
View Quote Cart
Once you have completed adding all of your items to the quote cart click on the cart icon in the menu to reveal the items in the cart. You can also visit the cart by going to the URL
https://gatortraxboats.com/shop/cart

4
Submit Your Quote Cart
Once you have reviewed and finalized your quote cart it is now time to submit the quote request. Submitting the quote request is very similar to online checkout but without submitting payment information.
Select the Proceed to Checkout button.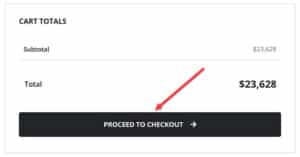 5
Complete Customer Details
Once you have selected the Proceed to Checkout button in the previous step, you will be brought to the Checkout page where you will submit your customer detail information along with an overview of your quote request. Complete the customer detail information and select Proceed to Submit Your Quote.